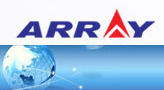 SH-300 Text Panel is a new product launched independently by ARRAY ELECTRONIC CO. It is mainly used to be connected with PLC or other intelligent controllers with COM port communication function as a small Human-Machine Interface.It can monitor, set, modify the data of the register and the status of the relay inside the PLC by configuring text,indicator,function key, bar graphs and trend graphics elements etc. SH-300 has a Monochrome(yellow-green) 4.3″STN-LCD with multi-language display.The project development software of SH300 is built on WINDOWS platform which is with friendly operation interface and easy to learn.
SH-300/Text Panel
As the variety of PLC models, SH-300 not only can support our ARRAY PLC, but also can support PLC of many
domestic and overseas brands. We can add the corresponding PLC protocol according to your requirements (including Mitsubishi FX series, Omron C series, Siemens S7-200 series, Panasonic FP series,Delta DVP series, ADC DL05 series, Schneider NEZA/TWIDO series, AB (AB-DF1 protocol) series, Emerson EC20 series, Hitachi MICRO-EH series, free protocol, MODBUS RTU/ASCII, RTU/ASCII EXTEND protocol, and TC-PRO48 Timercounter series etc.

SH-300 Catalog